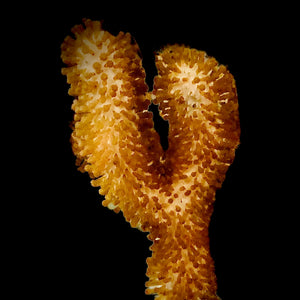 Alyssa's Seahorse Savvy
Deepwater Thick Giant Slit Pore Gorgonian-Photosynthetic
Sale price Price $39.99 Regular price
This is for a single Deepwater Thick Giant Slit Pore Gorgonian. These are gorgeous! 
Size: ~3-6+ inches, multi-branching
We find this to be one of the best live hitching post with our larger species of captive bred seahorses. The seahorses love the thick branches. These have large fluffy polyps and are very eye catching show pieces in a seahorse aquarium. This species of gorgonian is photosynthetic meaning is gets its energy from light. They are very hardy. We recommend moderate to higher water flow with Gorgonians. Colors and shapes vary, they are beautiful. 
Giant Slit Pore Gorgonians are safe to keep with our captive bred seahorses. We recommend moderate to higher water flow. Moderate to high light is recommended for this species.
Give us a call 410-618-3604 or send us an email: alyssa@seahorsesavvy.com if you have any questions. We are happy to help!