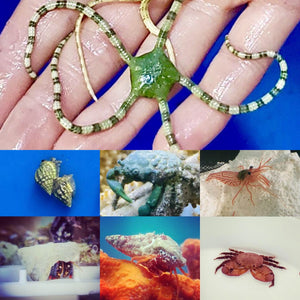 Alyssa's Seahorse Savvy
50-75+ Gallon Clean-up Crew Package
Sale price Price $189.99 Regular price $189.99
50-75+ Gallon Clean-up Crew Package
This package includes:
-25 Astrea snails 
-2 Sea Cucumbers
-25 Blue Leg Hermit Crabs
-25 Nassarius Snails
-15 Cerith Snails
-3 Serpent Starfish
-6 Peppermint Shrimp
-3 Emerald Crabs
-3 Ruby Red Crabs
-6 Chestnut Snails
All of our invertebrates are reef safe and safe with our larger species captive bred seahorses (not Dwarf seahorses).
Give us a call 410-618-3604 or send us an email: alyssa@seahorsesavvy.com if you have any questions. We are happy to help!